NEWSLETTER 2020 / 4



This project has received funding from the European Union's Horizon 2020 research and  innovation  programme under the Marie Skłodowska-Curie grant agreement No 722717.
2020 has been a unique year, keeping Europe in pandemic mode for the past 10 months. The novel COVID-19 virus has given rise to a global pandemic that has destabilized most institutional settings. Facing these challenges and amidst the pandemic, the OcuTher-project nevertheless has tried to achieve its goals.
OCUTHER CONFERENCES & TRAINING ACTIVITIES
Courses and workshops are organized in connection with OcuTher events or scientific conferences in relevant fields.
4TH OCUTHER CONFERENCE – ONLINE EVENT (ZOOM), 13.-15.10.2020
'Beyond the state of the art in ocular therapeutics – How these advances can be used for different disciplines'
The 4th OcuTher Conference was originally planned to take place at the University of Tübingen in Germany but had to be transformed to a digital conference due to the public health crises. The Conference featured presentations by OcuTher ESRs, as well as lectures from selected experts from the fields of ophthalmology and drug delivery.
The conference was recorded, in order for all project members to watch the presentations and discussions in their own time and in case they have missed part of the conference.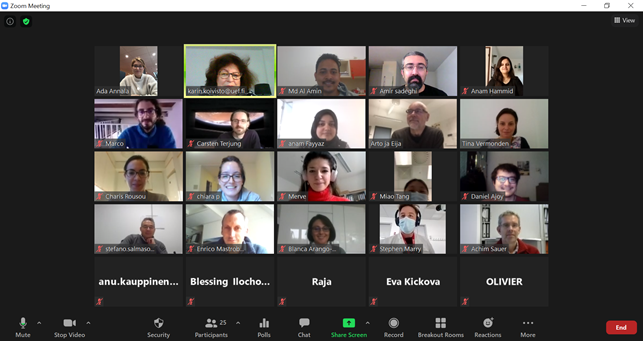 CERTARA/Simcyp COURSE
The final OcuTher course, Biologics focused workshop was held by Certara/Simcyp as an online event 8.-9.10.2020.

PROJECT EXPLOITATION
is under construction