This project has received funding from the European Union's Horizon 2020 research and  innovation  programme under the Marie Skłodowska-Curie grant agreement No 722717.
NEWSLETTER 2018 / 1
OCUTHER – Introduction and objectives
Epidemiology and burden of ocular diseases: In our ageing society with a rising incidence of diabetes and obesity, also ocular diseases are an increasing problem. More and more people beyond the age of 65 years lose their eyesight and thus control over their lives, social contacts, independence and mobility. On a global scale, 285 million people have some form of vision-impairing eye disease at this age.  (http://www.who.int/mediacentre/factsheets/fs282/en/).  Also amongst younger people, ocular diseases constitute a problem. No satisfactory treatments are available for most of these diseases.Major diseases affecting the eye include: cataract, dry eye, wet and dry age-related macular degeneration (AMD), diabetic retinopathies, glaucoma, retinitis pigmentosa and a plethora of rare retinal and choroidal diseases. Ocular diseases, which could lead to visual impairment and blindness, impose a tremendous personal and economic burden for patients and society. In 2014, it was estimated that blindness and eye diseases (Fig. 1) result in over 123 million workdays lost per year and the annual economic burden in Europe was €8-24 billion (http://www.ecoo.info/wp-content/uploads/2014/10/WSD_Press-Release_9_October_2014.pdf).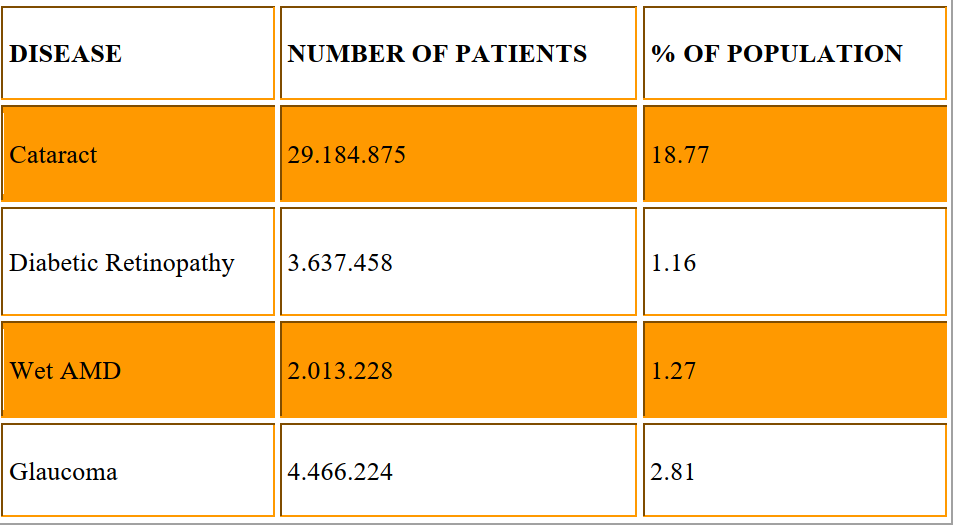 Figure 1: % of population affected by 4 prominent ocular diseases in 11 European countries
Treating ocular diseases and particularly retinal diseases is challenging due to a) the complex and protected structure of the eye, b) the current limitations of drug delivery systems (see below) and c) the lack of a systematic drug development process that would integrate the routes of administration, drug properties and delivery issues. Thus, many ocular diseases are currently not treated properly.
However, recent developments in drug delivery for diseases such as cancer and brain diseases, as well as new insights from nanotechnology open up new opportunities when transferred to ophthalmology. These developments however cannot be translated directly to ophthalmology because:
the druggability criteria for the eye are not similar to the per oral ADME (absorption, distribution, metabolism and excretion) criteria such as the Lipinski rule-of-5;
druggability criteria vary for different sites of administration in the eye;
toxicity in the eye involves unique factors such as opacification of the lens or retinal toxicity;
pigment binding can greatly alter the disposition/clearance of the drugs more than in any other organ;
the routes of administration and elimination of the drugs are unique in the eye e.g. the delivery of ocular medication is mainly performed by local rather than systemic administration;
requirement of long duration and small injection volume are prerequisites in intraocular drug delivery
Overview and content structure of the training
There is a global need for bringing a new generation of independent and creative researchers and business professionals to the forefront of ophthalmology drug research. The added value that OcuTher is providing, is the interactive and interdependent exchange between ophthalmology, drug delivery and material sciences, embedded in an academic and industrial set-up. OcuTher will provide the first systematic evaluation of different compounds (existing drugs as well as drug candidates) and novel drug delivery systems for the treatment of retinal diseases. OcuTher will train 15 highly selected, high potential ESRs to become pioneering researchers able to bring ground-breaking innovations from bench to bedside. OcuTher aims to radically reform the standard training that is currently provided to researchers by changing its nature and content from one-sided training limited to ophthalmology or pharmacology to a broad, highly multidisciplinary and intersectoral training. The training of our ESRs will include theoretical and practical courses in ophthalmology, drug development, materials science, drug delivery, pharmacokinetics/pharmacodynamics, modelling, nanomedicine, industrial perspectives, regulatory aspects and will involve interaction with the end-users via a patient organisation. The OcuTher consortium builds a synergy between the key disciplines in development of ocular therapeutics, thereby providing a multi-disciplinary and target-oriented PhD education. Thus, the next generation of researchers will have the appreciation and the necessary skills for performing multidisciplinary research and comprehend the whole value chain of ocular therapeutics.
OcuTher training programme will provide: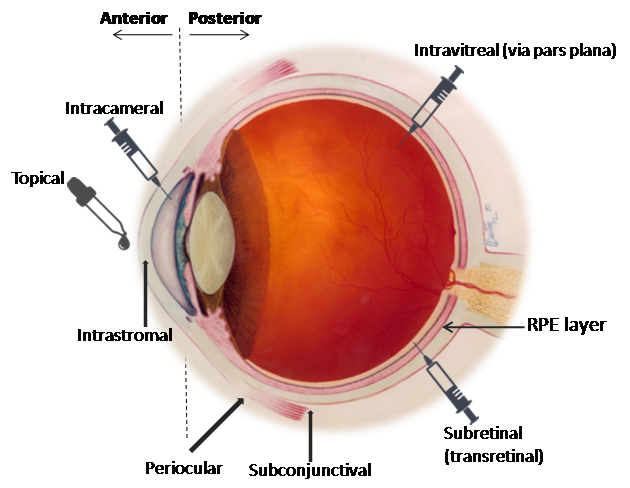 – Scientific excellence: All ESRs will be trained by top industrial and academic players who are at the forefront of their respective fields. OcuTher ESRs will have the opportunity to get trained in highly-innovative, cutting-edge, multi- and inter-disciplinary environments and interact with the best scientists in the field of ophthalmology, nanotechnology, material science, PK/PD modelling and industry. This excellent setting is expected to lead to numerous co-authored publications in high-impact journals and provide a solid starting base for the ESR career.
– Industrial and entrepreneurial training: All ESRs will develop a set of skills that is particularly important in an industrial environment. This will include training in general business, finance, good laboratory practices, safety course for nanotechnology, entrepreneurial skills, market research, IP protection and product commercialisation. Each ESR will have a secondment at an industrial partner in order to gain valuable experience with state-of-the art infrastructure and good laboratory practices at the high standard of the industrial environments. In this way, ESRs will learn and appreciate the value chain of the product and learn how to bring their scientific innovation into the market.
– Personal skill training: All ESRs will be trained to master a broad set of personal skills, including communication, project management and personal effectiveness. These are all valuable assets that will prepare the ESRs for careers in any sector and unique selling points for both industrial and academic careers.
– Public engagement training: One of the main goals of OcuTher is to train a new generation of scientists that will be keen in efficiently communicating with the public, the news media and the other non-scientific stakeholders. Having such a training at an early stage, ESRs will comprehend the need to bring innovation that meets the needs of society but at the same time making science approachable for non-scientists. In this way, OcuTher ESRs will be able to uniquely position themselves within any future career opportunity.
– Networking and mentoring: OcuTher aims to bring ESRs at an early stage in contact with their future employees as well as mentors that could guide them for appropriate career options. OcuTher ESRs will have the opportunity to present themselves and their research project to other academic institutes, companies within and beyond this network (e.g. interaction with invited speakers). This will enhance their employment opportunities and tremendously help to boost their intersectoral network.
– Multidisciplinary, intersectoral and intercultural exposure: OcuTher aims to bring a paradigm shift in the field of ocular therapeutics by bringing together experts from different fields. At the end of this project, based on their versatile but dedicated training, OcuTher ESRs will be in a position that will have a holistic transdisciplinary approach for bringing innovation within the field of ocular therapeutics but being able to transfer their knowledge in any other field. In such a way, ESRs will be in a highly competitive position. Interdisciplinary education encompassing basic biology and pharmacometrics is needed in many fields of biomedical science in order to improve translation of basic drug discovery findings towards clinics.
OcuTher ESR recruitment process:
The OcuTher recruitment process for our 15 ESRs was completed in October 2017. Summarized, OcuTher has received 594 applications, of which 505 were eligible applications by EU-criteria. 75 candidates were interviewed for the positions and 15 candidates were selected. Their gender distribution is 8 female and 7 male ESRs. Most institutions had received numerous applications especially from India and China and Asia as a whole, as well as Africa. Not so many from Europe.
Greetings from our successful OcuTher Conferences & Courses 2017 – 2018
OcuTher Kick-Off Conference and courses were held at the University of Eastern Finland in Kuopio 7.-9.6.2017. We started 'off' at the bottom (Puijo Tower) – but soon to be on the top! Picture shows OcuTher beneficiaries, partners and ESRs.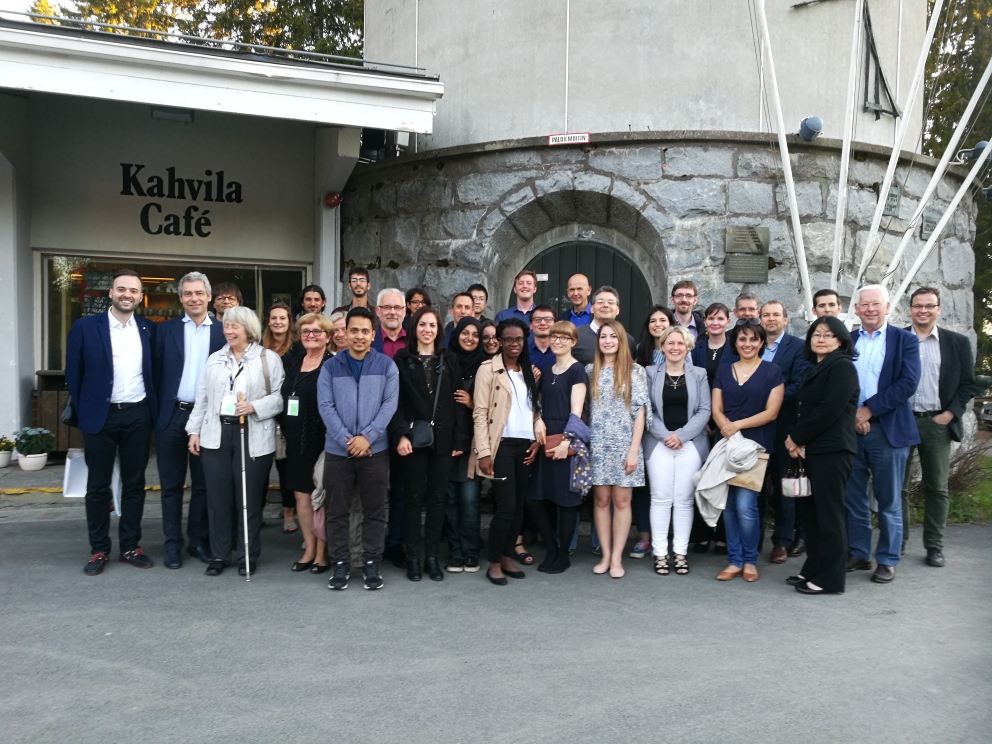 OcuTher 2nd Conference and courses were held at the University of Padova, Italy, 15.-17.10.2018. Here you can see us at the Old University of Padova, established in 1222, where we walked in Galileo Galilei's footsteps!